The Irish Wedding Band Directory
WEDDING BANDS IRELAND

.
A free list of wedding bands in Ireland - over 1,200 Wedding Bands, DJ's & other Irish Wedding Entertainers.
Your search starts here...
5 star rating from over 10 reviews at Facebook, Google & TrustPilot. Rate us.

Wedding Band and DJ
Let's Get the Party Kicking...Full on Entertainment from Start to Finish!!
Every Wedding Band in Ireland
We are Ireland's only website dedicated to finding & listing EVERY Wedding Band, DJ & Entertainer in the country. Inside you'll see videos, photos, setlists, live Facebook updates, phone, website and email links - you can even enquire directly with the bands right there on their page..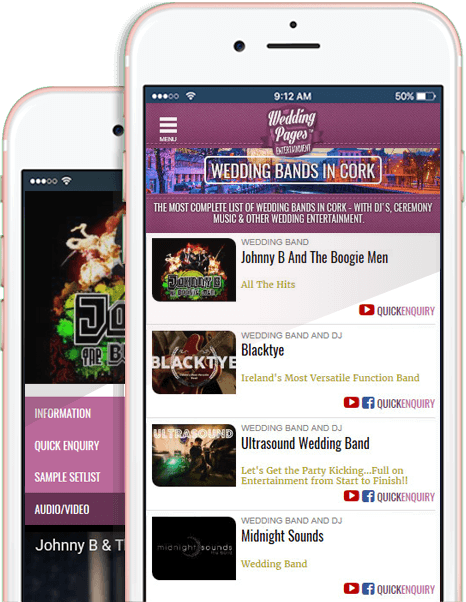 THE WIDEST CHOICE
---
This is, quite simply, the largest & most comprehensive wedding entertainment directory you will find.
SAVING YOU TIME
The best wedding bands in Ireland don't always have a website, and even if they do, they may not show up in your internet search - We find them all & list them for you.
LOCAL WEDDING ENTERTAINERS
Browse all the wedding bands & entertainers in your area - and while all the other sites only list paying advertisers, we're independent and list everybody - Guaranteeing you the best choice.
QUICK DIRECT ENQUIRIES
Making phone calls & composing emails is a pain, especially when you find out they're already booked or not in your budget. Use our Quick Enquiry feature to check directly with the bands you like - Simple.
---
BOOK IN CONFIDENCE
---
We've been helping Irish couples find their perfect wedding band & entertainment for over 10 years - always putting couples first.
How to book a wedding band in Ireland, in 5 easy steps.
Where do you start when opting for a live band or entertainment at your wedding reception? For many of you this is the first time you've organised an event on this scale, so to keep things simple, we've condensed it all into 5 easy steps.
---
Choose your county from above and browse all the wedding bands in your area.

When you find a band (or bands) you like, enquire STRAIGHT AWAY. The best bands can take bookings up to 2 years in advance, and so may not be available for your wedding.

Remember, wedding band prices are kept to a minimum when you book direct.
- That's another reason Wedding Pages is so awesome :-)

Just because you enquired, doesn't mean you've booked. It's normal for couples to go and see bands playing at actual weddings, and you really should do the same.

When you're happy to have found the best wedding band, and agreed an all-in price, have a look at our wedding band checklist before you finalise and pay your deposit.